As Central America's smallest and least populated country, Belize is misunderstood by many who've yet to visit. Formerly known as British Honduras, this small country along the Caribbean just south of Mexico is very unlike Guatemala or any of the others to its south. English is the official language, which alone makes it far easier for most people to enjoy either a vacation or a retirement.
Tags:
This morning we helped Madi do a bit of feeding and then we geared up and headed out to Carlos' Tours for our snorkeling tour! We met 5 other people including an employee of Carlos the owner of the tour company. He fitted us with fins and masks and then we boarded the boat and rode out to Hol Chan Marine Reserve! He anchored the boat once we saw a few other boats anchored in the most crystal clear water I've ever seen, and he went through some tips and rules about staying together and not touching the corals. I had some trouble with my mask and snorkel at first but then I was starting to get the breathing down. I had taken an underwater throw-away camera with us and it had once escaped my shorts pocket. I saw something bobbing in the water and realized it was my camera and had to swim out to it so Mike put it in his secure velcro shorts pocket.
Tags:
Belize, On the northeast coast of Central America, embodies a wonderful mix of Spanish and Caribbean influences, particularly on its cayes (pronounced "keys"), a series of very small islands northeast of Belize City.
Tags: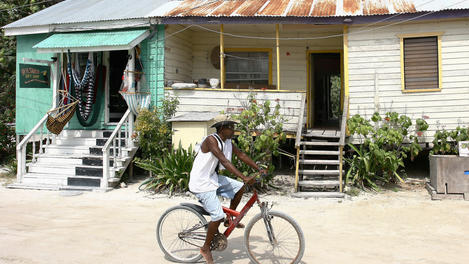 'No Shirt, No Shoes…No Problem.' You'll see this sign everywhere in Belize, but no place is it more apt than Caye Caulker. Indeed nothing seems to be a problem on this tiny island, where mangy dogs nap in the middle of the dirt road and suntanned cyclists pedal around them. The only traffic sign on the island instructs golf carts and bicycles to 'go slow, ' a directive that is taken seriously.
Situated approximately 20 miles from the coast of Belize City, Caye Caulker is a member of a small group of dazzling limestone coral islands sheltered within the protection of the Belize Barrier Reef. The popularity of the island broods from its reputation as a tropical budget-friendly departure from the savage barrios of Belize's former broken-down capital. Every year the popularity of this laid back, creole-influenced island continues experiencing steady growth as backpackers and budget travelers exchange their trekking boots for a comfortable pair of sandals to enjoy the long, slow island lifestyle.
While Caye Caulker is well known for its laid back and slow pace, it is full of active water sports and activities like scuba diving, snorkeling, kayaking, and many more.
During my visit to Caye Caulker, one of the activities that caught my attention the most was kayaking. But not just any kayaking, it was kayaking with Ocean Academy.
<< Start < Prev 1 2 3 4

5

Next

>

End

>>


Page 5 of 5