from
1.
Kayaking at Sunset - NGS Traveler Photo Contest 2013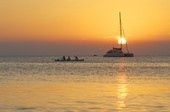 This was taken on Caye Caulker, off the northern shore of Belize. Kayaking off the Belize Barrier Reef is a popular activity, especially at sunset. I remember running to grab my camera from my room nearby upon realizing that the day's colors would be memorable. One glance at this scene takes me right back to the peace and beauty of Belize.
2.
The Riddle: new anti-homophobia message from UN human rights office
76 countries still criminalize consensual same-sex relationships and lesbian, gay, bisexual and transgender people everywhere continue to suffer violent atta...
BelizeNet.com's insight:Belize, listen up...