kayaking
1.
Kayaking at Sunset - NGS Traveler Photo Contest 2013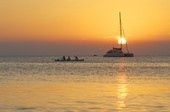 This was taken on Caye Caulker, off the northern shore of Belize. Kayaking off the Belize Barrier Reef is a popular activity, especially at sunset. I remember running to grab my camera from my room nearby upon realizing that the day's colors would be memorable. One glance at this scene takes me right back to the peace and beauty of Belize.
2.
Kayaking with Purpose
While Caye Caulker is well known for its laid back and slow pace, it is full of active water sports and activities like scuba diving, snorkeling, kayaking, and many more.
During my visit to Caye Caulker, one of the activities that caught my attention the most was kayaking. But not just any kayaking, it was kayaking with Ocean Academy.